An Overview of the Galapagos Islands
The Galapagos Islands is a group of islands and rocks formation known as an archipelago consisting of 13 large islands with a surface area greater than 10 km², 6 medium islands with an area of 1 km² to 10 km² and another 215 small islets as well as rocky promontories of a few square meters distributed around the line of the Earth's equator. Located 1000 kilometers west of continental Ecuador, the archipelago is administered as a province of Ecuador.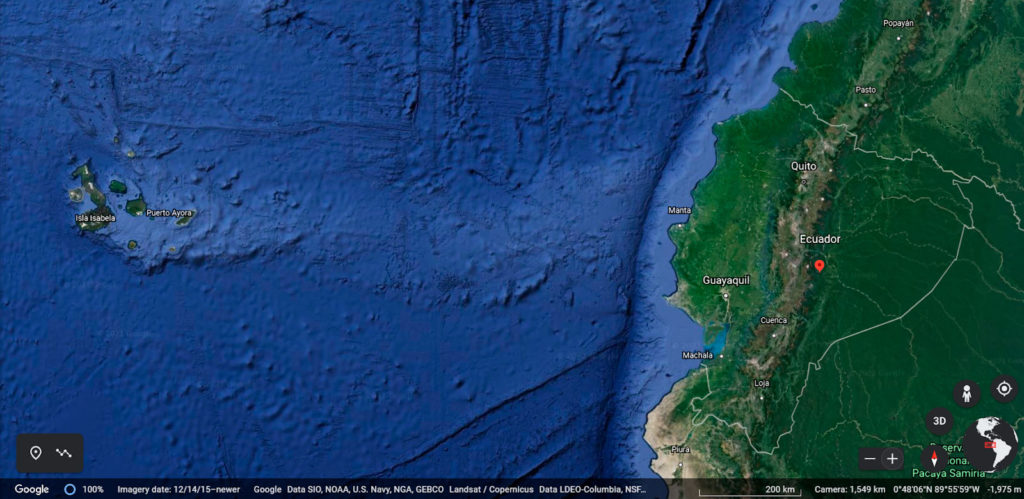 Galapagos Islands' International Recognition
The islands are considered one of the most important natural reserves in the world, in fact, it is considered a world heritage by UNESCO and currently it's known to be expanding its marine reserve and joining efforts with other countries to protect it.
In July 2010, the World Heritage Committee agreed to remove the Galápagos Islands from its list of precious sites endangered by environmental threats or overuse.
The geophysical and biological ecosystems found in Galapagos make this archipelago a natural laboratory for scientific research.
Geophysical Qualities of the Galapagos
The arid landscape of the islands at Galapagos is due to its volcanic historical dynamics which formed the archipielago of lava piles, accounting for active volcanic activity currently ongoing. In the last 11 years alone, four of its volcanoes have erupted (Sierra Negra, 2005; Cerro Azul, 2008; Fernandina, 2009; and, Wolf Volcano, 2015) thus, the Galapagos archipelago is considered one of the most volcanically active areas in the world.
Studies collecting satellite images from the Galapagos volcanoes between 1992 and 1999 led experts to believe that the slightest change in volcanic shape, as a change in magma levels in the calderas, can indicate eruption threats. This is how experts predicted volcanic activity which resulted in Sierra Negra's eruption in October of 2005.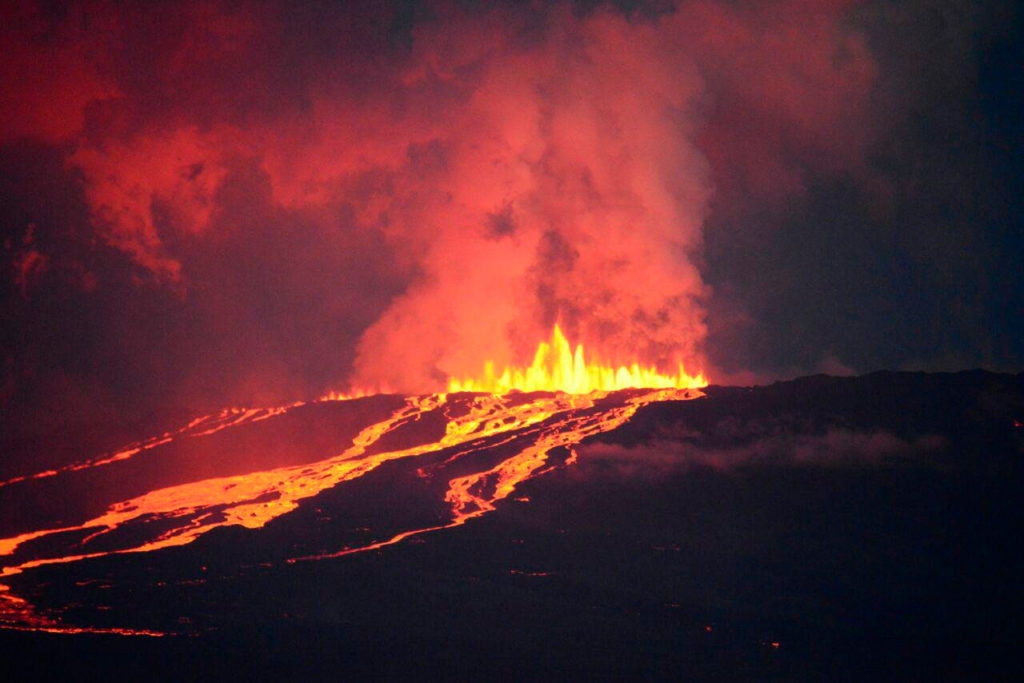 Biodiversity in Galapagos Islands
A quick Google search of the Galapagos fauna can show sea lions, giant tortoises and marine iguanas as representative of its biodiversity. Nonetheless, the richness and variety of the species at the Galapagos greatly exceeds that described by any online portrayal of the flora and fauna of these wonderful islands. The naturalist Charles Darwin himself was so stunned by the biodiversity of this place that he wrote:
These islands seem to be a little world within themselves, a perennial source of new things.

1835 journal entry (Clark and Clark, 1999)
The admiration of the world is focused on the fauna of the Galapagos Islands, due to the conditions of endemism (82% of mammals, 80% of land birds, 26% of seabirds and 95% of reptiles are endemic to the islands). Endemic species include petrels, cormorants, the Galapagos hawk, penguins, land and marine iguanas, and many more.
Initially there were 14 species of turtles, giant tortoises, which give the archipelago its name, 3 of which have gone extint due to human predation, and the constant eruptions of the volcanoes.
Penguins, giant tortoises, flightless cormorants, marine and land iguanas, are on the list of the more than 2000 endemic species that inhabit the Galapagos Islands. In fact, the World Wildlife organization stated:
The Galapagos ecoregion holds many native endemic snails, plants, insects, reptiles, birds and mammals. Due to its young age and level of isolation associated with being an island archipelago, the ecoregion has a low number of species. The ecoregion does, however, remain high on the list of areas for conservation due to high endemism and low disturbance. Most species here are endemic which is unusual even for the most species rich ecoregions. The endemic concentration is elevated when subspecies are brought into consideration. Most endemic species in the Galapagos archipelago have at least two subspecies due to the divergence of the species to better adapt to each island.
Visiting the Galapagos National Park
The "Archipelago of Columbus", also known as the Galapagos Islands offers tourists the possibility to explore its magnificient landscapes and biodiversity through the Galapagos National Park in a safe and comfortable way.
Flying from either Quito or Guayaquil airports are the only form of access due to inspection of the Agency for Regulation and Control of Biosafety.
Airlines that flight to the Galapagos are:
Entrance Fees to the Galapagos National Park: An entry tax will be levied on protected areas in Galapagos as an entry tax, the prices of which are detailed below:
CATEGORY
FEE TO BE PAID
Foreign tourists not resident in Ecuador over 12 years old
US $100
Foreign tourists not resident in Ecuador under 12 years of age
US $50
Foreign tourists not resident in Ecuador, over 12 years old, nationals of one of the countries belonging to the Andean Community of Nations or Mercosur
US $50
Foreign tourists not resident in Ecuador under 12 years of age, nationals of one of the countries belonging to the Andean Community of Nations or Mercosur
US $25
National or foreign tourists residing in Ecuador, over 12 years old
US $6
National or foreign tourists residing in Ecuador, under 12 years of age
US $3
Tourists, foreign students not residing in Ecuador who are enrolled in national educational institutions
US $25
Children under 2 years of age who are nationals or foreigners are exempt from paying this tax.
Source: Galapagos National Park
Travelers Requirement Visiting Galapagos
All travelers age 2 and older must present a complete vaccination card, with at least 14 days of validity or a negative RT-PCR test taken a maximum of 72 hours prior to boarding the aircraft to the Galapagos, counting from the time the sample was taken; and
All travelers to the Galapagos Islands also need a "transit control card" issued by the Government of Galapagos.  Contact your tour operator for more information on this requirement. For more information visit the U.S. Embassy & Consulate in Ecuador site
What to Pack for Your Galapagos Trip
Waterproof camera or dry bag for electronics.
Binoculars.
Swimsuit.
Snorkel mask, snorkel fins and a wetsuit: Tours usually provide them for snorkeling, but you don't want to miss a marine-life spotting because you're fiddling with ill-fitting gear. The best we've found have advanced-fit technology, which means a better seal and Shot FX fins (a spring-loaded foot strap that makes for an adjustment-free fit).
Sun hat, sunscreen (SPF30 or higher), sunglasses.
Light back pack or fanny pack: This is where you will keep such Galapagos necessities as your camera – unless you have a camera bag – sunscreen, glasses, windbreaker and other similar objects during your walks & hikes.
A long-sleeved shirt with UPF: Wear it when you're hiking or even snorkeling for extra sun protection.
Refillable water bottle to reduce plastic waste.
Motion sickness medication for boat tours.
Quick-dry clothing: Try breathable, odor-resistant Merino wool material like the briefs, socks, and T-shirts.
Rain gear: Consider a waterproof jacket and umbrella and/or head gear (it protects from sun as well as rain!)
Hiking shoes for uneven, dried lava terrain.
Insect Repellent.
Biodegradeable shampoos. Remember this is a water-based excursion.
Suggested Activities in Galapagos
Wildlife watching: Watching the galápagos penguins, eagle rays, sea lions, sea turtles, blue footy boobies, among other things is something you cannot miss, whether you are on land or in the sea.
Scuba Diving: Hammerhead sharks, whale sharks, eagle rays, large schools of jack fish and much more marine animals are among the diverse marine fauna landscape when sailing the Galapagos Marine Reserve.
Snorkeling: No matter which island you're snorkeling off of, you'll likely be swimming alongside sea lions and Pacific sea turtles or even watch marine iguanas feeding on algae.
Surfing: You can rent surfing boards in port towns such as Santa Cruz and San Cristobal.
Kayaking. You can rent kayaks without a guide at Tortuga Bay in Santa Cruz.
Hiking. Trek over dried lava beds along the rim of one of the archipelago's active volcanoes or into the highlands to see a variety of vegetation.
Volunteering. You'll find opportunities that can include working on a farm or helping with habitat restoration through National Park Sustainable Development and the Charles Darwin Foundation
Galapagos Island Vacation Packages
If you are looking to have an accompanied experience that includes transport, accommodation and tour guidance, altogether, to the Galapagos Islands you can choose to hire a travel agency with all inclusive travel packages to the Galapagos Islands.
Some important questions to consider before you hire a travel agency for your Galapagos Islands Vacations are:
What kind of experience(s) do you expect from this trip?
What activities do you enjoy the most when vacationing?
How many islands do you wish to explore?
Answering questions like these can help you choose the best vacation deal for your traveling plans, budget, activities included on your guided tour when selecting the vacation package and time you need to spare for completing the trip with all of its activities comprised.
Here's a handful selection of package deals that Vacations Land can offer: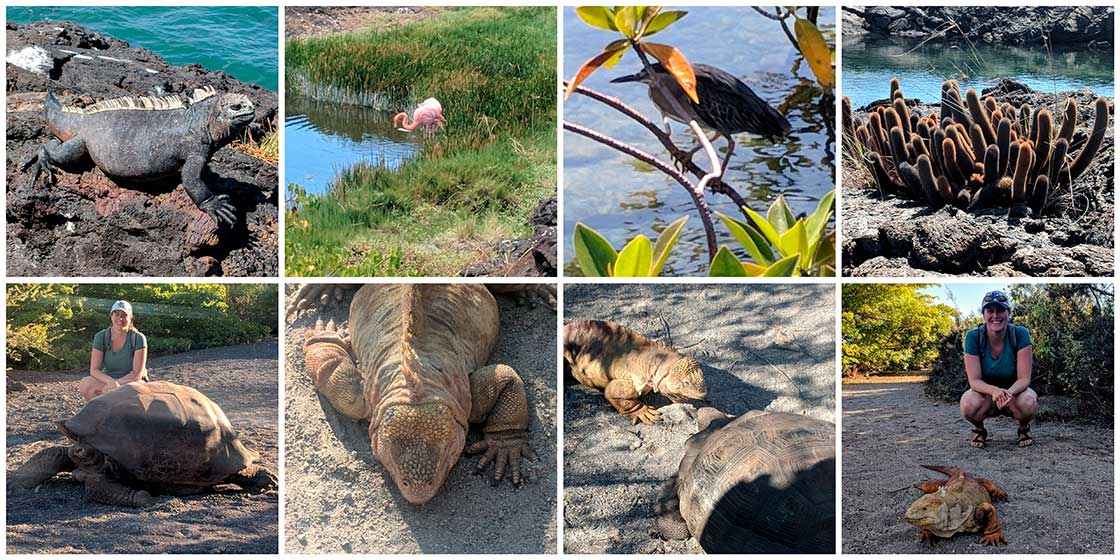 SANTA CRUZ – ISABELA – SANTA FE – SAN CRISTOBAL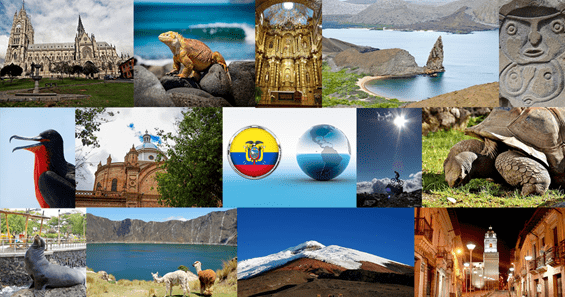 QUITO -ISLA SAN CRISTOBAL-GUAYAQUIL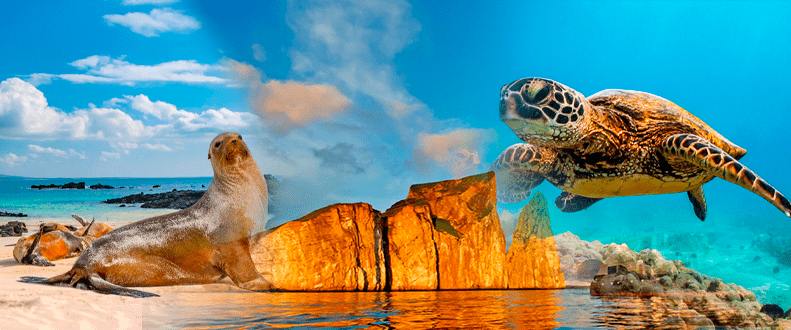 Galápagos San Cristóbal Island