An Overview of Machu Picchu
A 1911 research exposed an astonishing art of architecture amidst the Andes, now known as Machu Picchu. In the Quechua Indian language, "Machu Picchu" means "Old Peak" or "Old Mountain. An enigmatic place that sheds light on how the pre-Columbian empire of the Incas lived. Solarly aligned buildings, roads, artificial farming areas and complex irrigation systems are among the marvels that can be traced from Machu Picchu.
Geography of Machu Picchu
Machu Picchu is located in the district of Aguas Calientes, province of Urubamba, department of Cusco in Peru. Its privileged location sitting between the Amazon rainforest and the Andes mountains, elevates this mythical place to 2,430 m above sea-level. This rich geography led Machu Picchu to be one of the 7 Wonders of the World, as recognised by UNESCO as a historic sanctuary.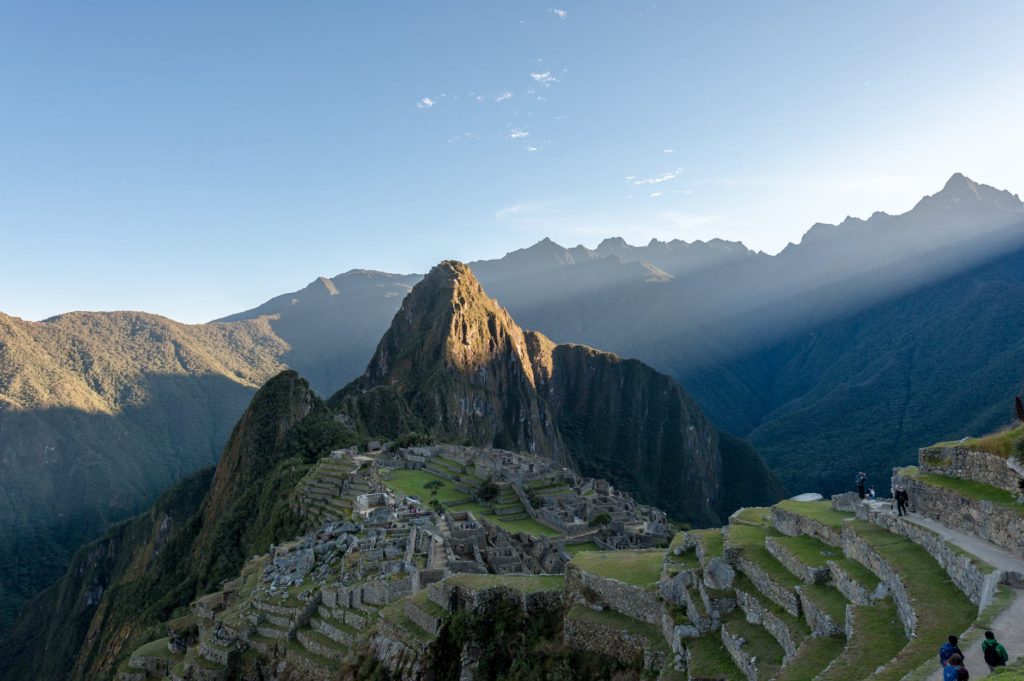 Weather in Machu Picchu
Machu Picchu has a pleasantly warm weather during the day, but its temperature goes down at night, ranging between 50 and 75 Fahrenheit degrees (12 degrees Celsius). More than temperature, Machu Picchu is distinguished more by its dry and wet seasons.
To avoid the tourist crowds during the peak dry season and muddy conditions during the low rainy season, consider the benefits of visiting during pleasant climate and warm-to-cool temperatures; these are called shoulder months such as April, May, September, October, and November, months in which temperatures sit comfortably between 50 and 70 degrees Fahrenheit.
Machu Picchu Maps and Sectors
If you are planning to embark on a trip to exploring "the lost city" of Machu Picchu, you may benefit from understanding before hand that the city is organised in different areas with different historical meaning and misteries.
There are 4 main areas that archeologists and scholars have mapped off of Machu Picchu:
Inca Trail also known as Machu Picchu Hiking Trail
This trail is a popular route among tourists, extending itself over 40 kilometers and can easily take you 4 days to complete the trek. That includes 1 day visiting the archaeological Park of Machu Picchu. Moreover, during your hiking experience, you will be surrounded by wonderful nature and breathtaking views of the mountains.
There is a shorter trail that takes about 2 days to complete, for those who don't have much time to embark on the lengthier journey. Through this trail you will be able to experience a variety of birds and plants such as orchids. This shorter path is hidden among the Andean mountains with constructions high up in the mountains.
Agricultural Sector
The Incas surrounded Machu Picchu with terraces to stabilize the slope and build their infrastructure. They carefully laid different layers of gravel and stone, and a flat layer of fine soil that cannot be washed away with the rush of water coming down the slope. All this provided the conditions for the Incas to grow their agriculture, occupying a large part of Machu Picchu in this area.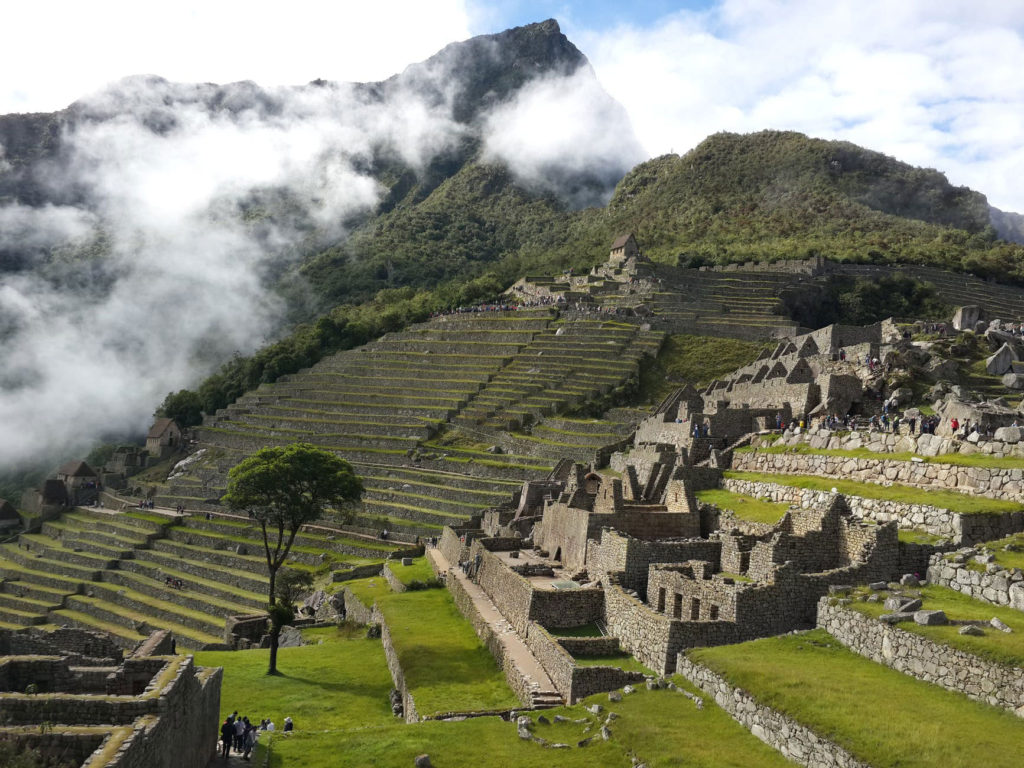 All the tiered grass field was the Incas solution to the food supply challenges they faced by building this misterious city at Machu Picchu. Not only they needed to engineer complex irrigation systems to satisfy the urban water supply needs, but they also had to ensure the streams of water downhill would not flood the city and temples they had built. By creating this tiered fields downhill, they solved both problems in one shot. Pretty clever!
The Urban Sector and Sanctuaries at Machu Picchu
Despite of the sanctuary found and the belief that Machu Picchu was a religious place, there are over 140 houses ruins that attest that a population of over 500 people lived there once, with other than religious motives.
Some still believe that it is an imperial residence, until the Spanish foreign invaded it and turned it into an impregnable military bastion. The Inca mummies were transferred to Lima, since according to chroniclers this city was burned. But I'll leave these theories to the scholars to figure out and test.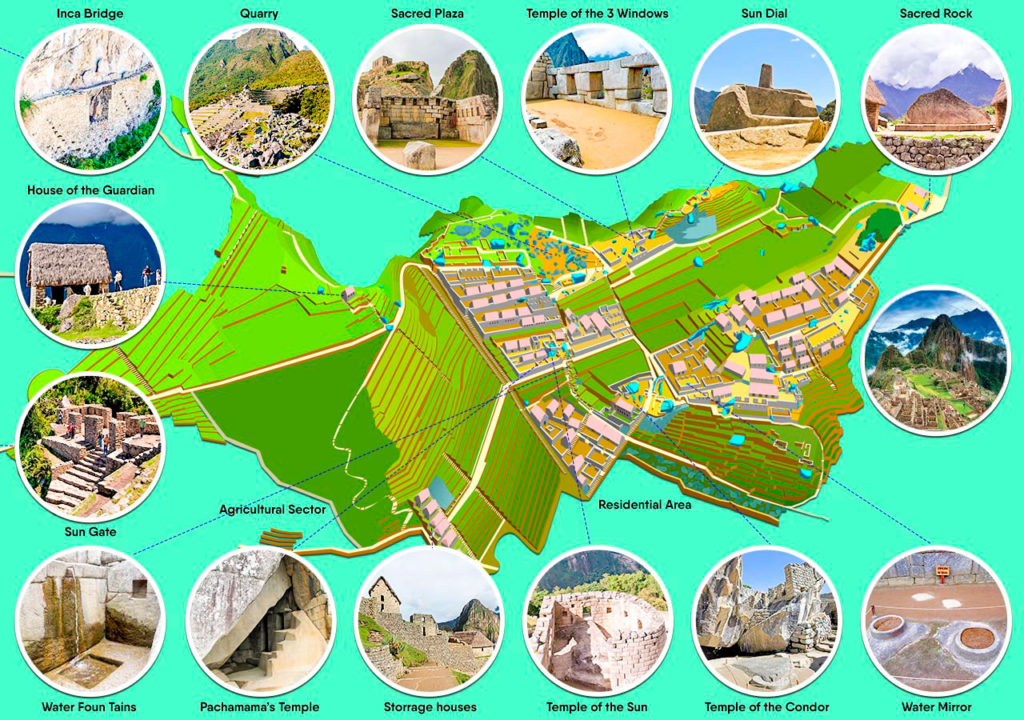 The skills and strength the Incas must had been as impressive as their legacy, given the widespread belief that they did not know the wheel, and that the temples and ceremonial buildings have spectacular astronomical and architectural precisions. For example, there is a building with curved walls, aligning a groove on the wall with the sunlight during the winter solscite, the shortest day of the year.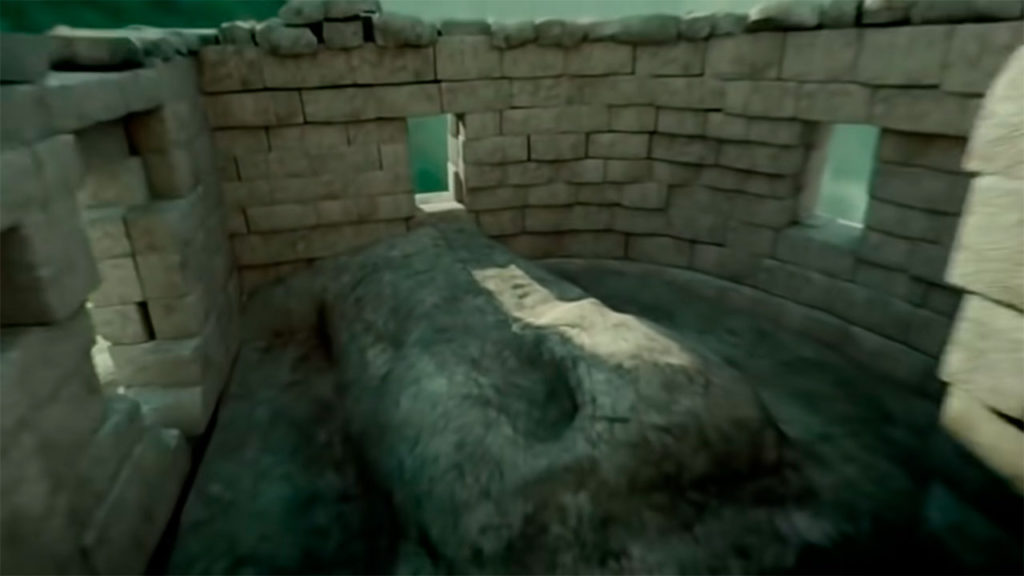 Train Service in Machu Picchu
There are rail roads to Machu Picchu currently being serviced and operated by 2 train companies, Peru Rail and Inca Rail. Both train companies have a variety of services offered to tourists who desire to explore the tracks to Machu Picchu.
Both companies have a website from where you can buy your tickets, just make sure you buy your tickets as soon as you know your trip date and departure details since they are in high demand always and there is a slight variation in departure locations depending the company you choose to buy the train tickets from.
Machu Picchu Tours
Machu Picchu is, no wonder, one of the new 7 marvels of the world. It is no wonder since its architectural and artistic work mixes with nature in an unseemingly way.
From roads that extent through thousands of miles to floating, hanging and hydro dam bridges connecting the glorious city hidden in the sky. This enables travel agencies and tour operators to provide a plethora of tours in Machu Picchu.
Vacations Land is a travel agency and tour operator that enables people and organizations from around the world, especially in North America, to plan and experience their dreamed vacations.

PERU AND BOLIVIA MACCHU PICCHU -DEATH ROAD-UYUNI SALT FLATS

PERU: Lima, Cuzco, Machu Picchu, The Rainbow Mountain & Nazca: THE LAND OF UFOs